BRUT BLANC DE BLANCS MILLÉSIME 2008
Purity and Minerality
This cuvée was named in tribute to Louis, Elisabeth Salmon's brother, who was passionate about oenology and highly involved in winemaking from the earliest creation of the House. Originating from the best parcels of the Côte des Blancs, the Blanc de Blancs vintage is endowed with purity and minerality.
Tasting notes
Distinguished elegance of a mineral and exceptionally precise Chardonnay with a natural balance that is a harmonious representation of the best parcels of grand crus of Côte des Blancs: Cramant, Chouilly for the finesse, Avize for the force of character and Mesnil-sur-Oger for the structure and longevity.

APPEARANCE
Crystal clear pale gold colour with delicate glints marked by a nuanced patina of yellow and green. A persistent and fascinating effervescence, brimming with light.

PALATE
A creamy sensation in the mouth with a beautifully chiselled finesse. Lovely refreshing balance with natural flavours (zest of citron, almond biscuit and white pepper). This powerful wine with a majestic typicity prolongs its finish towards an aromatic persistence of incredible length (flesh of sweet citrus fruits, cardamom and vanilla-flavoured cream puffs).

AROMA
The first expression is signed by an elegant, perfect and complex maturity, yellow fruits and citrus (candied mandarin, limoncello, conference pear). An aromatic profile of a sophisticated purity and a chalky, balanced and crystalline character (cedar and raw butter).

TASTING
The unique dimension of a great Blanc de Blancs, pure and intense, with a directness perfectly associated with its low dosage. Its potential and its balance express a remarkable finesse worthy of the most sophisticated food pairings (a casserole of whole calf sweetbread from Corrèze, a creamy shellfish risotto).

Serve at: 10/12°
From Florent NYS, Billecart-Salmon' chief winemaker.
In Perfect Harmony with Frédéric Anton
Head chef of Le Pré Catelan***, Le Jules Verne* and the Don Juan II* in Paris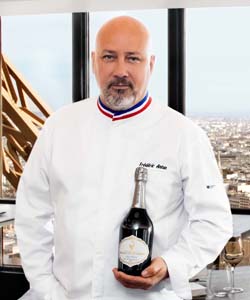 " The first time I discovered the cuvée Louis Salmon 2008 was during a convivial dinner at the family estate with Mathieu Roland-Billecart and Alexandre Bader. A superb moment of tasting and sharing!
I love this wine full of emotion which, as the tasting progresses, reveals a personality that goes marvellously with my cooking. I pair this great chardonnay with my langoustine ravioli. Its iodized aspect goes perfectly with the salinity and minerality of this cuvée. Meanwhile, the parmesan sauce interacts beautifully with the creamy and generous mouthfeel of the wine. The fine beetroot jelly which accompanies the ravioli brings an 'earthy' aspect and a touch of acidity which boosts the overall sensation: an extremely harmonious pairing!
For this tasting experience, what could be better than to reach for the sky in the Jules Verne restaurant (on the 2nd floor of the Eiffel Tower) which offers a sensational view of Paris! "
Frédéric Anton, ambassador of Louis Salmon 2008.
Maison Billecart-Salmon is honoured to share the creative vision of Frédéric Anton, ambassador for Louis Salmon 2008. Proud owner of 3-star restaurant Le Pré Catelan ,1-star Le Jules Verne and 1-star Don Juan II, the chef has designed an exclusive gourmet menu. A thrilling and unexpected experience that dives into the fascinating world of Frédéric Anton and his bold flavour associations, in perfect harmony with the 2008 vintage of Louis Salmon.​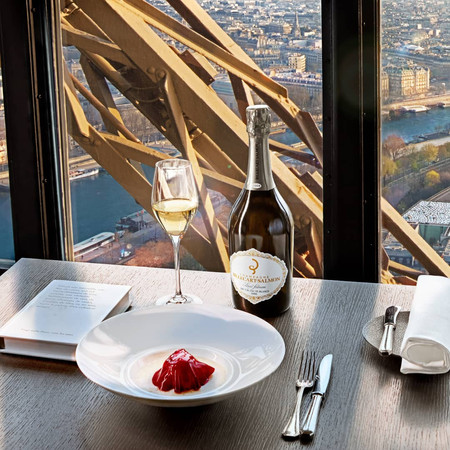 Langoustine prepared in ravioli, Parmesan cream, fine beetroot jelly​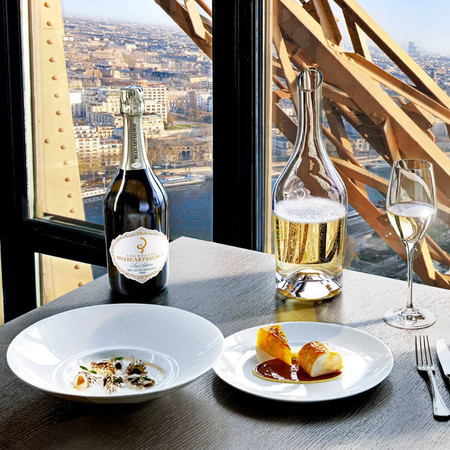 Roasted poultry, morels in cream sauce, Pommes Anna and fatty juice​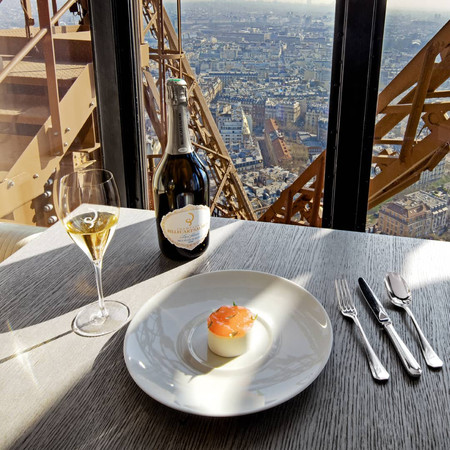 Citrus fruits, vacherin, light mousse with citron leaves, bergamot tea sorbet
Guide notes
20++/20 Matthew Jukes - April 2022
"One of the wines with the most potential I have ever tasted from this incredible estate."
17,5 JANCIS ROBINSON - MAY 2022
"A very serious, mature wine with real savour. Certainly a champagne connoisseur's wine… Really opens out on the finish"
SEE COMMENTS
Grape Varieties & Blend
• 100% Chardonnay grands crus of Côte des Blancs: 40% Chouilly, 33% Cramant, 20% Mesnil-sur-Oger, 7% Avize
• Dosage: 7g/l
• 33% vinified in oak casks
• Ageing on lees: 11 years
• Available format: bottle
• Ageing potential: more than 10 years
DOWNLOAD THE TECHNICAL SHEET
Vintage mapping
Each cuvée that arrives in your hands is always ready to be tasted at its best, thanks in particular to a long ageing process in our cellars. However, conscious that everyone enjoys their wines at different stages of development, we wanted to highlight five stages of evolution to better guide you. None is superior to the other, however, depending on your tastes, this cartography will allow you to appreciate a vintage of our house as close as possible to your aspirations and thus have the best possible tasting experience.
DOWNLOAD THE VINTAGE MAPPING