Champagne Vintage 2009
Intense and Seductive
This wine, with an extra brut dosage, is dominated by great Pinot Noir flavours which is tempered by the elegance of the Chardonnay from the Côte des Blancs and that signature touch of Pinot Meunier.
Tasting notes
An ideal blend allowing the personality of the Champagne region's great Pinot Noirs to dominate, combined with the elegance and subtlety of Chardonnays and that signature touch of Pinot Meunier.

APPEARANCE
The yellow colour has soft golden undertones, naturally enhanced by a fine, dynamic effervescence. A shining, very radiant effect that brings out the full potential of nine years of maturation in our ancestral chalk cellars.

PALATE
A nervy, charming, tactile delight (chestnut cream, fresh blueberries and shortbread), emphasized by a delicate texture. The wine rises to a distinguished complexity with a persistent finale, crisply structured by the high-quality potential of such a sought-after vintage.

AROMA
The delicious intensity of precise fruit with citrusy and nutty notes (grapefruit pulp, slivered almonds). A nuanced sensory development built around pastry scents (raw butter, white fruit jelly). A masterful aromatic expression with a refined, refreshing purity.

TASTING
A deeply sculpted vintage with a noble, exquisitely distinctive character. Enjoy to the fullest with red tuna, papaya and avocado, or with pan-fried foie gras, peaches, verbena, rhubarb and verjuice (prematurely harvested grape juice).
Service temperature: 11–12° C
From Florent NYS, Billecart-Salmon' chief winemaker.
In Perfect Harmony with Frédéric Turpaud
Head sommelier at the Restaurant Divellec - Paris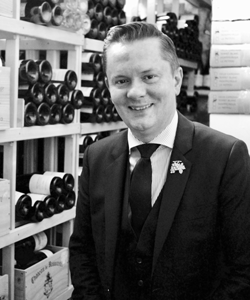 " From the very first taste, I experienced a real love at first sight for the Vintage. For me it incarnates the spirit of Billecart with freshness and finesse. With this vintage in particular, there is a majority of Pinot Noir which brings about an elegance and a framework for a great refinement. The Vintage 2007 is the essence of Maison Billecart-Salmon, a champagne which doesn't go unappreciated; people always remember the Vintage 2007. In my capacity as a sommelier, I like to recommend this wine with a beautiful turbot that has been roasted whole, a fish with a beautiful meaty flesh that is full of flavour. There is a great harmony with the finesse of the Pinot Noir, and a very light austerity which brings about length. The Cuvée Vintage 2007 is also a wine that can be drunk on any occasion. I like to go against tradition and tell myself that we aren't obliged to reserve champagne just for special events. Just sharing a bottle is reason enough! "
Guide notes
17/20 - Matthew Jukes - OCTOBER 2020
"2009 Billecart-Salmon, Vintage is a very rich creation from this perennially elegant House. If you want to see what happens to the Billecart model when the sunshine beats down, then this is it. Full, imposing, heady and main-course-shaped, this is Billecart for power-lifters!"
SEE COMMENTS
Grape Varieties & Blend
• 73% Grands crus and Premiers crus
• 40% Pinot Noir, 33% Chardonnay and 27% Pinot Meunier
• Origins: Montagne de Reims, Côte des Blancs and Vallée de la Marne
• Extra Brut Dosage : 2 g/l
• Vinification in stainless steel tanks
• Partial malolactic fermentation
• Ageing on lees: 9 years
• Available format: bottle
• Ageing potential: 8 to 10 years
DOWNLOAD THE TECHNICAL SHEET