N°2 PINOT NOIR EXTRA BRUT
Precision and purity
Our second stop is the two historic terroirs of the Montagne de Reims: Ambonnay and Verzenay, where the Pinot Noir varietal imprints a distinctive identity in the wine. This is a careful selection process based on the purity of the fruit, the balance of flavours and a low dosage.
Les Rendez-vous de Billecart-Salmon
In its continuous quest for excellence, Billecart-Salmon is constantly experimenting with new methods to further improve the quality of its wines. A range has been born from the fruit of this work to offer you a unique tasting experience. Precise, New, Bold, each new release will epitomise an exceptional terroir and a champagne grape variety as well as the art of a meticulous winemaking.
A sublime grape variety and terroir

APPEARANCE
A distinctive sparkling golden hue and a glistening stream of fine bubbles.

PALATE
A generous textured and tactile mouthfeel with intense fruity notes of candied lemon paste, tangerine and licorice. The mid-palate evolves towards a chalky and slightly peppery tastes. The finish highlights a refreshing minerality with tangy flavours of fresh raspberries.

AROMA
A beautiful aroma with floral sensations (cherry blossom and violet) with hints of biscuit, a touch of honey and raw butter. The citrus zest and juiciness of this wine will awaken you senses. A highly delicate blend where the character of the Pinot Noir subtly reveals its terroirs' DNA.

TASTING
This second rendez-vous reveals the identity of a pure Pinot Noir from exceptional terroirs. Served at cellar temperature (10/12°), it will pair wonderfully with a Ceviche of Gambero Rosso (prawns), or crab and its iodine creamy sauce.
From Florent NYS, Billecart-Salmon' chief winemaker.
In Perfect Harmony with David Bizet
Executive Chef at Palace Peninsula Paris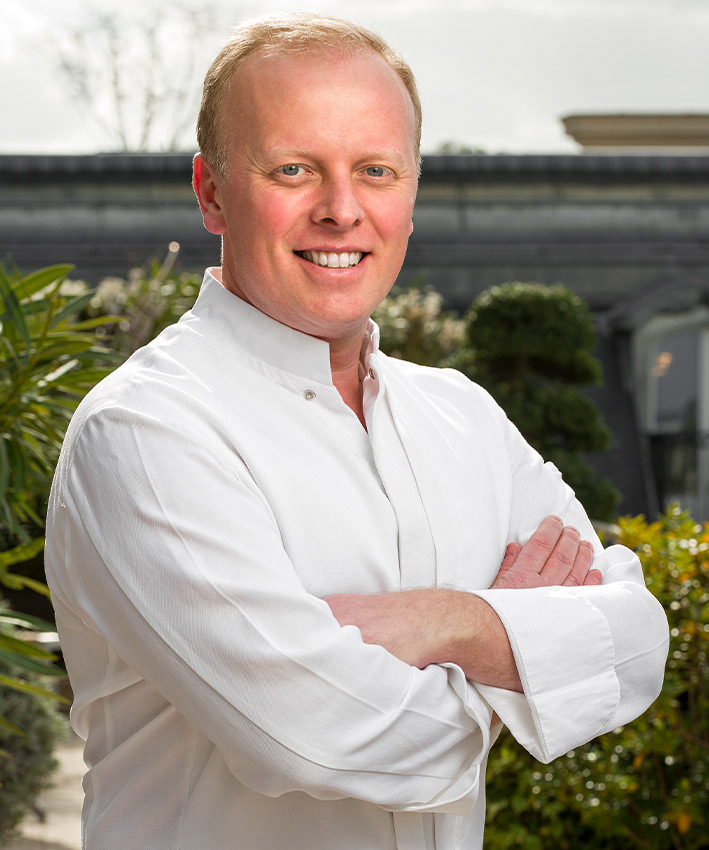 " One of my fondest tasting memories is having had the chance to taste Clos Saint Hilaire with the chief winemaker, Denis Blée, at the village of Mareuil-sur-Ay. When I discovered this "Rendez-vous" cuvée, it reminded me of a fleeting moment of inspiration, a product, and the desire to express a sensitivity and a feeling on the spot...This vintage from Pinot Noir evokes a strong character, wrapped in great elegance. A punchy acidity with great length on the palate, a fleshy, almost tannic texture, with notes of fresh grapefruit, green anise, and raspberry. With this type of wine, I like to combine intensity levels by serving raw clam with high iodine, caviar with a dash of black garlic, and Japanese breadcrumbs with roasted ginger. I enjoy the contrast created with powerful flavors that one finds in a pepper Kugelhopf, ideal to share with family as an aperitif. For instance, at the moment I like to garnish them with smoked eel, fresh seaweed and citrus. The perfect setting in my opinion for this tasting is L'Oiseau Blanc at The Peninsula Paris. "
Grape Varieties & Blend
• 100% Pinot Noir from the villages of Ambonnay and Verzenay of the Montagne de Reims.
• The vineyards from the Montagne de Reims are ideally facing south, on chalk subsoil, with roots buried deep underground.
• Dosage: 2g/l
• Vinification in stainless steel tanks
• Ageing on lees: 65 months
• Base wine: 2014
• 22% reserve wines from 2012
• Ageing potential: 5 years
DOWNLOAD THE TECHNICAL SHEET