BRUT MILLÉSIME 2007
Balance and Richness
This exceptional cuvée was created in 1964 as a tribute to the House's founder. It results from the blending of Grands Crus from the classified Côte des Blancs vineyards (Chardonnay) and the Montagne de Reims (Pinot Noir).
Tasting notes
Its vinification, partially in traditional oak casks, underpins the generous character of this fine, elegant and rich wine.

APPEARANCE
A beautiful golden yellow, glinting with bright sparkles. The glittering, crystalline appearance is set off by an eruption of finely chiselled bubbles.

PALATE
It combines all the richness of an aromatic curve, both complex and refreshing. Intense, fine notes of orchard fruits, associated with the character of stone fruits (Mirabelle plum and sweet cherry) and accentuated by the burst of a long floral note (hawthorn).

AROMA
A balanced tension is achieved by the blossoming of the wine (peaches in syrup, fine apple tart and mountain butter) and embodied in the noble flavours that follow (fresh fig and wild berries).

TASTING
This tense and mineral vintage, characterised by an elegant vinosity, offers you all the distinction of a well-aged Champagne. Served at cellar temperature (11° to 12°), this cuvée will reveal the flavours of a Bresse roast chicken or a delicious milk-fed veal chop with chanterelle mushrooms.
From Florent NYS, Billecart-Salmon' chief winemaker.
In Perfect Harmony with Lionel Levy
Chef at the restaurant Alcyone*, Marseille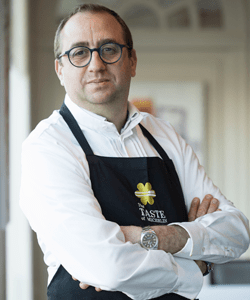 " My first encounter with the Cuvée Nicolas François 2006 goes back to a tasting organised for my team. The idea was to introduce them to some exceptional wines but, in reality, it was me who was the most surprised by the marked personality of this champagne. There is a strength and a length on the palate, a power which is controlled and mastered in perfect balance. The Cuvée Nicolas François 2006 is an invitation on a journey and I particularly enjoy its combination with scallops, pan seared with hazelnut and ceps in a poultry stock. This dish is an obvious choice, so much so that it blends perfectly with the character traits, the strength and the power of the Cuvée Nicolas François. Your imagination carries you away onto a sailing boat, between land and sea, in the company of your very dearest friends. Such a cuvée should be decanted and served in wines glasses to open up and fully appreciate all of the aromas. It is the epitome of tasting an exceptional champagne. "
Guide notes
98 - Tyson Stelzer - April 2021
« Pinot noir assumes a glorious lead in a magnificent display of red berry and cherry fruits, seamlessly fused to the bright lemon and pink grapefruit eut of magnificent chardonnay acidity.»
SEE COMMENTS
Grape Varieties & Blend
• 79% Grands Crus and 21% Premiers Crus
• 60% Pinot Noir from the Premiers and Grands Crus from the Montagne de Reims and the Grande Vallée de la Marne
• 40% Chardonnay from the Côte des Blancs
• Dosage: 6 g/l
• 15% vinified in oak barrels
• Partial malolactic fermentation
• Ageing on lees: 10 years
• Available formats: bottle
• Ageing potential: more than 10 years
DOWNLOAD THE TECHNICAL SHEET
Vintage mapping
Each cuvée that arrives in your hands is always ready to be tasted at its best, thanks in particular to a long ageing process in our cellars. However, conscious that everyone enjoys their wines at different stages of development, we wanted to highlight five stages of evolution to better guide you. None is superior to the other, however, depending on your tastes, this cartography will allow you to appreciate a vintage of our house as close as possible to your aspirations and thus have the best possible tasting experience.
DOWNLOAD THE VINTAGE MAPPING