N°3 MEUNIER EXTRA BRUT
Sensual and sophisticated
Our third stop takes in the three historic terroirs of Leuvrigny, Damery and Venteuil, where the Pinot Meunier varietal gives wine from this region its distinctive identity. A careful selection process based on the purity of the fruit and the balance of flavours in order to define a style even closer to low dosage.
Les Rendez-vous de Billecart-Salmon
In its continuous quest for excellence, Billecart-Salmon is constantly experimenting with new methods to further improve the quality of its wines. A range has been born from the fruit of this work to offer you a unique tasting experience. Precise, New, Bold, each new release will epitomise an exceptional terroir and a champagne grape variety as well as the art of a meticulous winemaking.
A sublime grape variety and terroir
Billecart-Salmon takes you to the historic vineyards of Leuvrigny, Festigny and Venteuil in the heart of Vallée de la Marne.
Here you will discover a new expression of Pinot Meunier, revealing a very special identity. The delicacy of its floral notes and the sweetness of its fruity aromas from this single varietal wine will brighten up your most beautiful shared moments.

APPEARANCE
A treat for the eyes that glistens and gleams, with a distinctive golden-yellow hue flecked with silver. Always with the customary stream of tiny bubbles, so perfectly channelled in the centre of the glass.

PALATE
A sensual textured mouthfeel leading to an indulgent fluidity that blossoms into deeply delicious, fruity notes (white cherry, pineapple and yellow plums). The blissful sensation of reaching a certain pleasure point, of flying high with senses elevated and honed. Finally, a finish that is just as enjoyable, lengthening to notes of white pepper with a pleasant tartness of yellow fruit.

AROMA
Wonderfully balanced floral sensations (lime and grasses) combined with the summery scents of freshly-cut wheat fields (grain and straw). It will awaken your senses to refined notes ranging from crisp fruit to juicy citrus. A highly delicate blend through which the character of the Pinot Meunier subtly reveals itself.

TASTING
This third offering from the family revives the unique identity of a pure Pinot Meunier from three villages. Served at cellar temperature (10/12°), you may wish to consider pairing it with a veal and foie gras pie or a Bresse Pâté en croute.
From Florent NYS, Billecart-Salmon' chief winemaker.
In Perfect Harmony with Frédéric Simonin
Chef at Restaurant Frédéric Simonin*, Paris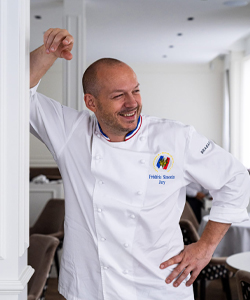 " I've known Maison Billecart-Salmon for many years. It is a story of sharing, of human encounters, particularly with Mathieu Roland-Billecart and the discovery of the family estate through its majestic storeroom, its cellars and a memorable lunch! This Rendez-Vous No.3 reveals the very unusual and strong identity of the Meunier, for the purity of the fruit, with beautiful delicious and refined notes. To accompany it, I imagine one of my dishes being a Pain Surprise (stuffed loaf), in which the creaminess of the potato, the saltiness of the caviar and this herby flavour of the marigold, are perfectly complementary and offer a very subtle harmony with this Champagne. The ideal place to taste it is simply at the dinner table, suitably accompanied, in my restaurant or directly in the heart of the Champagne vineyards, particularly in the autumn when the leaves change colour – guaranteed pleasure for the eyes and the palate! "
Grape Varieties & Blend
• 100% Leuvrigny, Festigny and Damery et Venteuil.
• Dosage: 2g/l
• Vinification in stainless steel tanks
• Ageing on lees: 64 months
• 33% reserve wines from 2013
• Base wine: 2015
• Ageing potential: 5 years
DOWNLOAD THE TECHNICAL SHEET