Brut Sous Bois
Captivating and Original
This unique cuvée, which is entirely vinified in oak, is composed of the three Champenois grape varieties. It totally masters the art of blending by renewing the ancestral spirit and savoir-faire of the original champagnes.
Tasting notes
The Brut Sous Bois offers a complex aromatic definition and a character linked to vinification in oak casks.

APPEARANCE
A radiant yellow crystalline appearance with golden glints brought to life by a luminous stream of persistent, fine bubbles.

PALATE
A burst of flavours (notes of grilled brioche and toffee) thanks to the distinguished power and maturity which is a mark of any great wine of Champagne.

AROMA
There is a rich olfactory impact which is harmoniously expressed (dried fruits, fresh citrus and white flesh fruits) and coupled with finely buttered seductive notes.

TASTING
Its strength of character and integrity make it an ideal accompaniment to seafood and poultry dishes or Girolle mushrooms.

Serve at: 10°C
From François DOMI, Billecart-Salmon' chief winemaker.
In Perfect Harmony with Jean-Pierre Vigato
Michelin-starred chef** – Paris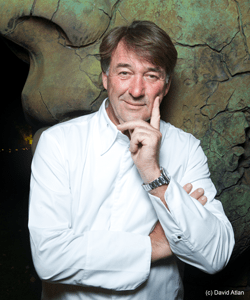 " Everything about this wine is distinctive. It's a champagne that seduces. It's made from the three champenois grape varieties in equal proportions and is vinified in oak, which bestows upon it a beautiful balance and a great elegance between the finesse of the bubbles and the strength of its character. The Brut Sous Bois cuvée can be paired with very different dishes, which includes langoustines, white meats or a slowly cooked veal shank covered with thin strips of ceps. This champagne is the guarantee of a terrific marriage between the character and the finesse. Personally, I pair the cuisine with the wine to allow it to express itself. Crustaceans, either cooked or uncooked, just cooked cockles or even a mussel risotto, cuttlefish and a saffron flavoured broth unveil the full potential of this cuvée. For me the Brut Sous Bois is like an epicurean tale which is to be enjoyed at the end of the afternoon, on the terrace at Apicius for example, or even with a good cigar. I always associate this champagne with an absolute moment of pleasure or a moment of happiness, both precious and precise. "
Guide notes
17/20 - Revue du Vin de France 2018
16,5/20 - Bettane & Desseauve 2018
16/20 - Gault & Millau 2018
The House, which is normally sparing with its use of oak, has on this occasion adopted a completely different approach. The wine is vinified in casks that are more than 15 years old and then is aged for six years on its lees in bottle. Notes of dried fruits, marzipan, pastries and ripe, yellow flesh fruits open up with a rare breadth on the palate, as if the oak cask allowed the wine to open out without feeling too heavy. A superb exercise in style and a great reference.
SEE COMMENTS
Grape Varieties & Blend
• Composed of the three Champenois grape varieties in equal proportions
• Premier and Grand Cru Chardonnay from the Côte des Blancs
• Premier and Grand Cru Pinot Noir from the Montagne de Reims, Aÿ and Mareuil-sur-Aÿ
• Pinot Meunier from the right bank of the Vallée de la Marne
• Dosage : 7g/l
• Vinification and ageing take place in oak casks at low temperature
• Partial malolactic fermentation
• From 30% to 35% reserve wines
• Ageing on lees: 6 to 7 years
• Available formats: bottle
• Ageing potential: 5 to 6 years
DOWNLOAD THE TECHNICAL SHEET