Champagne Brut Rosé
A Romantic Champagne
With its subtle and gourmet aromas, this cuvée is a reference point amongst rosé champagnes. It will be a pleasant companion to your happiest moments with its sparkling colour, its amazing finesse and its great intensity.
Tasting notes
The Brut Rosé is a blend of Chardonnay, Meunier and Pinot Noir vinified as red wine.

APPEARANCE
A pale yet radiant pink colour adorned with warm glints of gold.

PALATE
Its special method of vinification gives this cuvée a light, elegant flavour, followed by a fresh finish with a taste of raspberry.

AROMA
This cuvée unveils a subtle aroma leading to an elegant, delicate bouquet of fine notes of red berries and zest of citrus fruits.

TASTING
This cuvée is an ideal partner as an aperitif and can also accompany a dish of wild salmon or sushi. For dessert, it will add a sublime touch to red fruit flavours.

Serve at: 8°C
From Florent NYS, Billecart-Salmon' chief winemaker.
In Perfect Harmony with Pierre Hermé
Pastry Chef, Maison Pierre Hermé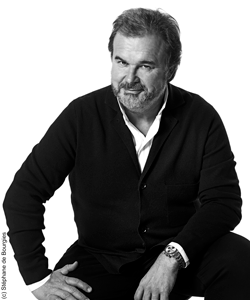 " The first time I had the opportunity to taste the Brut Rosé cuvée, and it was a long time ago now, was at the restaurant of Alain Passard. What I liked straight away was the vinous dimension of this cuvée. You can sense that behind the champagne there is a real wine there. Next it begins to unveil itself more intimately, with notes of citrus fruits and red berries which are more subtle and elegant. This cuvée showcases the mastery and knowledge of balance. It's this subtle delicateness, born from harmony and finesse which I like in the Brut Rosé. For me, this champagne is an ideal partner to accompany the desserts that I create. I'm thinking about a lemon, strawberry and olive oil gateau, where the notes of the wine are in perfect harmony with the fruit. I also have on my menu an entirely lemon dessert which pairs perfectly with this cuvée and its citrus personality! For me, this champagne can be drunk at any point, breakfast lunch or dinner. At any time, it's like a ray of sunlight that transcends the beauty of the moment. "
Guide notes
93/100 JAMES SUCKLING - JULY 2022
" Aromas of dried strawberries and lemons, as well as hints of flowers. Full- bodied with tight tension from the fine phenolics that run through the palate"
91/100 DECANTER - MAY 2021
"Floral and citrussy, showing a lithe, graceful balance. Its delicate, subtly expansive flavours of raspberry and strawberry are enlivened by a tangerine-like acidity(...)"
SEE COMMENTS
Grape Varieties & Blend
• 40% Chardonnay sourced from the best Crus in the Champagne region
• 30 % Pinot Noir from the Montagne de Reims and the Grande Vallée de la Marne
• 30% Meunier from the Vallée de la Marne and the southern slopes of Epernay
• Dosage : 9g
• Vinification in stainless steel
• Malolactic fermentation
• 40% reserve wines
• Ageing on lees : 36 months
• Available formats : Half-Bottle, Bottle, Magnum, Jeroboam
• Ageing potential : 2 to 4 years (Bottle); 1 to 2 years (Half-bottle); 4 to 8 years (Magnum and Jeroboam)
DOWNLOAD THE TECHNICAL SHEET