BRUT MILLÉSIME 1999
Rare and complex
This Blanc de Noirs cuvée is vinified in oak casks, allowing the richness of the terroir and the purity of the wine to express itself. For each vintage, there is a limited release of between 3,500 to 6,500 individually numbered bottles, reserved for those very special moments.
A Legend is Born
"In the 1950s my grandmother set aside this park-like space next to our house in Mareuil-sur-Aÿ with vines, flowers and fruit trees, for our enjoyment. Realising this outstanding terroir's potential, my family decided to plant the first Pinot Noir vines here in 1964. We tried using the Pinot Noir to make white wine in small Burgundy barrels: an outstanding champagne was about to be born. After several years of painstakingly tending the vines, the 1995 harvest, the first year of this unique cuvée, was remarkable. We called it Le Clos Saint-Hilaire after the patron saint of the church in Mareuil-sur-Aÿ. No more than 3,500 to 7,500 bottles are produced each year and each is individually numbered."
François Roland-Billecart, 6th Generation
The Parcel
The one-hectare Clos Saint-Hilaire meets the strictest guidelines: a single enclosed, contiguous parcel with complete winemaking facilities on site. The terroir's magic combined with the wine maker's skills make this wine exceptional.
Made only from Pinot Noir vinified in casks, it develops an outstanding purity. Billecart-Salmon decided to add very little liqueur, or dosage, after disgorgement in order to let the typicality of the single grape used to make this great wine evolve.
An indulged terroir
The Clos Saint-Hilaire is a single parcel where the vines, soil and subsoil are carefully tended with respect for the environment. Several years ago, BILLECART-SALMON decided to return to ancestral champagne-making methods in the Clos Saint-Hilaire by using work horses.

This method of maintaining the soil and tending the vines increases porosity and biodiversity: the roots grow deep and the minerals they draw from the soil foster the growth of smaller, more concentrated grapes, revealing the terroir's typical flavour.

APPEARANCE
Visual bursts of sparkling rays of pink gold.

PALATE
This cuvée exhibits a powerful and tactile dimension in a noble and distinguished manner. Its persistent finish draws to a close with notes of spices and praline.

AROMA
A blossoming and generous sensorial pleasure is characterised by the depth of the aromas of candied fruits, honey, melted butter and truffles.

TASTING
This excellent cuvée will enchant your tasted buds when paired with shellfish of truffles dishes.

Serve this outsanding wine at no cooler than 12°C and drink at 15°C.
From François DOMI, Billecart-Salmon' chief winemaker.
In Perfect Harmony with Thomas Boullault
Chef at Restaurant L'Arôme*, Paris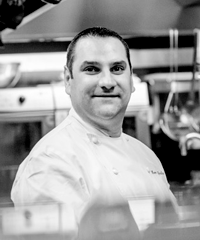 " The Clos Saint Hilaire is a cuvee that I love. Everyone knows it is very unusual. Just because something is unusual it doesn't always mean it is majestic but it definitely does in this case. It's a cuvée which has amazed me with its finely roasted nuances, buttery hints of wood and honey and an ample richness. This unique taste is one I've never found anywhere else. In terms of pairings, I would propose a soupions stir fry with roasted ceps, dried fruits, Solliès figs and a blackberry vinaigrette! The ceps reflect the woody aromas and the chestnut aspects that are present. The ceps are also a reminder of the rare characteristics of this cuvee which has been entirely vinified in oak. For me, autumn is the best time to taste this wine, when you start to see the very first leaves in the autumnal colours. I project myself into a world which is fixed in nature, close to a forest or a pond, to fully make the most of the aromas of this exceptional and truly invigorating champagne. "
Guide notes
16,5/20 - Bettane & Desseauve 2018
17,5/20 - Gault & Millau 2018
What a wine! Originating from a single terroir of Pinot Noir vines harvested in a Clos of one hectare, this cuvée is first and foremost a Champagne wine. With an unspeakable complexity which comes evidently from its evolution in the bottle, this wine expresses itself with a very vinous structure with notes of yellow flesh fruits, spices and mushrooms. Very few champagnes possess this vinous structure which makes this cuvée a perfect companion in fine dining establishments, capable of accompanying characterful dishes such as venison cooked in its jus with a sauce of soya and shallots. A very great wine.
SEE COMMENTS
Grape Varieties & Blend
• Made exclusively from a unique parcel of old Pinot Noir vines from Mareuil-sur-Aÿ
• No sugar is added to the dosage
• 100% vinified in oak casks
• Ageing on lees: 15 years
• Available formats: Bottle
• Only 3,500 to 7,500 individually numbered bottles available
• Ageing potential: more than 10 years
DOWNLOAD THE TECHNICAL SHEET