BRUT MILLÉSIME 2005
Rare and complex
This unique Blanc de Noirs cuvée bears the name of the Patron Saint of Mareuil-sur-Aÿ. This Clos of one hectare meets strict standards: a single, unbroken and enclosed plot with a complete vinification installation in situ. This single varietal of incredible typicity has all the qualities of an exceptional wine of great depth and singularity, to be kept for long-term aging.
A Legend is Born
"In the 1950s my grandmother set aside this park-like space next to our house in Mareuil-sur-Aÿ with vines, flowers and fruit trees, for our enjoyment. Realising this outstanding terroir's potential, my family decided to plant the first Pinot Noir vines here in 1964. We tried using the Pinot Noir to make white wine in small Burgundy barrels: an outstanding champagne was about to be born. After several years of painstakingly tending the vines, the 1995 harvest, the first year of this unique cuvée, was remarkable. We called it Le Clos Saint-Hilaire after the patron saint of the church in Mareuil-sur-Aÿ. No more than 3,500 to 7,500 bottles are produced each year and each is individually numbered."
François Roland-Billecart, 6th Generation
The Parcel
The one-hectare Clos Saint-Hilaire meets the strictest guidelines: a single enclosed, contiguous parcel with complete winemaking facilities on site. The terroir's magic combined with the wine maker's skills make this wine exceptional.
Made only from Pinot Noir vinified in casks, it develops an outstanding purity. Billecart-Salmon decided to add very little liqueur, or dosage, after disgorgement in order to let the typicality of the single grape used to make this great wine evolve.
An indulged terroir
The Clos Saint-Hilaire is a single parcel where the vines, soil and subsoil are carefully tended with respect for the environment. Several years ago, BILLECART-SALMON decided to return to ancestral champagne-making methods in the Clos Saint-Hilaire by using work horses.

This method of maintaining the soil and tending the vines increases porosity and biodiversity: the roots grow deep and the minerals they draw from the soil foster the growth of smaller, more concentrated grapes, revealing the terroir's typical flavour.

APPEARANCE
The terroir's magic combined with an ancestral savoir-faire reveals a sublime golden yellow hue, underlined by intense golden reflections. A graceful effervescence softened by the patina of time.

PALATE
A full-bodied and intense texture evoking citrus fruit flesh and pears in syrup (iodine notes, mandarin pulp), as well as subtle hints of panettone, bursting with rich flavors (puffed buckwheat and liquorice wood). The wine is characterised by a mesmerizing yet expressive charm, with a generosity that carries the finish towards a delicious chalky minerality.

AROMA
A noble and racy expression with the olfactory impact of an elegant vinosity and complex aromatic notes (shortbread biscuits, floral fragrances and white truffle). A refined blossoming highlighting the sparkling concentrations of ripe fruits (nuts, sweet spices and roasted mango).

TASTING
A unique tasting experience for a rare and sought-after vintage from a small-scale production of no more than 5100 bottles. Served at cellar temperature (12/14°), this micro cuvée will pair wonderfully with a Wild Turbot and Burmese coffee.
From Florent NYS, Billecart-Salmon' chief winemaker.
In Perfect Harmony with Daniel Manetti
Wine Director - The Connaught, London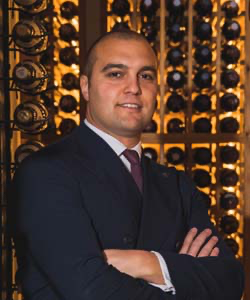 " My first encounter with Clos St Hilaire was with the vintage 1999, I had the pleasure to taste it in the middle of the Clos and that was a completely fully immersive experience. Totally fascinating! Since the first time I tasted it I really loved the ample texture, the fullness of the fruit, the tension it shows across the vintages. The Clos St Hilaire 2006 lends to an ample aroma, predominantly small red fruits, candied citrus fruit, crushed hazelnuts and almonds and well integrated oaky characteristics. Try this wonderful Champagne with aged cheeses. An aged Comté or Parmesan work very well with the saltiness and nuttiness of these cheeses are balanced with the richness of the Champagne. But, just to push a bit the usual boundaries, pair it with a nice Wagyu tartare with black truffle shavings on top. The compact structure of Clos St Hilaire withstand perfectly with the tartare while the earthy characteristics of the champagne work well with truffle. As it is a champagne very particular, it deserves meditation and attention. In this season (winter) I would like to enjoy while in a countryside lodge in front of the fire while outside it's snowing. "
Grape Varieties & Blend
• Originating from a single enclosed, contiguous one-hectare plot of old vines planted with Pinot Noir in Mareuil-sur-Aÿ in 1964.
• Dosage: 1g/l
• 100% vinified in oak casks
• Ageing on lees: 170 months
• Available formats: Bottle
• Only 5 100 individually numbered bottles available
• Ageing potential: more than 10 years