Extra Brut
Pure and Natural
The innovative style of this cuvée remains loyal to the discreet and balanced charm of the three Champenois grape varieties. No sugar has been added to the dosage.
Tasting notes
This is a champagne full of brightness and purity.

APPEARANCE
A pale gold intensity enhanced by the clarity of a sparkling, crystalline blend.

PALATE
It exhibits a charming biscuity flavor with notes of white flesh fruits and a full and harmonious minerality which results in a sensational balanced finish.

AROMA
A champagne with complex and seductive aromas of dried fruits and brioche combined with floral notes. These are further enhanced by the subtle charm of lemon verbena.

TASTING
Enjoy with gambas, grilled scallops and ceviche.
Serve at: 10-11°C
From François DOMI, Billecart-Salmon' chief winemaker.
In Perfect Harmony with Jean-Georges Vongerichten
Chef at the Restaurant Jean-Georges** – New York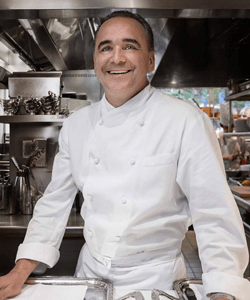 " When you speak about the Extra Brut cuvée, you're invited on a journey into the origins of a champagne. It's going back to the basics of a timeless and authentic champagne. I remember the first time I tasted this cuvée, it was with a sea urchin salted butter with South American chilli and yuzu zest on toast. An astute pairing! The Extra Brut cuvée transports you to a pleasant emotion. Its sparkling acidity on the palate awakens your taste buds to the pleasures of the gastronomy. For example, you can match it with a warm oyster on a bed of creamed basil and wasabi with crispy potatoes – a dish served in our restaurant in New York. This Extra Brut is also a delight with a jelly of finger limes, crème fraiche, dill and caviar or even a sea bream sashimi with herbs. For me, the Extra Brut cuvée is truly a return to the original purity, the same purity that charms me and which allows for so many pairings where we see authenticity rhyme with simplicity and subtlety of flavours. An unmoving journey towards timelessness! "
Guide notes
15,5/20 - Revue du Vin de France 2018
A champagne with a beautiful structure and light bubbles. A very refined wine.
16/20 - Bettane & Desseauve 2018
15,5/20 - Gault & Millau 2018
This well-balanced Extra Brut is made up of predominantly Pinot Meunier. Starting on the nose, with scents of fresh grapes and yellow flesh fruits, the balance of the wine is evident. Despite the absence of dosage, on the palate it maintains gourmand flavours which isn't so commonplace with an Extra Brut. This is a major success in its category, you will relish this cuvée as an aperitif.
SEE COMMENTS
Grape Varieties & Blend
• 30% Pinot Noir from the Montagne de Reims and the Grande Vallée de la Marne
• 30% Chardonnay sourced from the best Crus in the Champagne region
• 40% Pinot Meunier from the Vallée de la Marne and the southern slopes of Epernay
• No sugar added to the dosage
• Vinification in stainless steel tanks
• Malolactic fermentation
• 50% to 60% reserve wines
• Ageing on lees : 40 months
• Available formats: Bottle and Magnum
• Ageing potential: 5 to 6 years (Bottle); 6 to 8 years (Magnum)
DOWNLOAD THE TECHNICAL SHEET