Champagne Brut Réserve
Harmony and balance
Balance and harmony combine together in this light and subtle champagne. Its blend is made up of Pinot Noir, Chardonnay and Meunier sourced from the very best sites of the Champagne region. It is the ideal partner to delight your guests on every occasion, both as an aperitif and throughout the entirety of a meal.
Tasting notes
The Brut Réserve is a light, fine and harmonious champagne. It is made up of a blend of Pinot Noir, Chardonnay and Meunier from three different years and sourced from the best sites in the Champagne region.

APPEARANCE
With reflections of straw yellow, this cuvée is recognisable by the finesse of its slowly rising bubbles and its persistent and plentiful mousse.

PALATE
A full and precise flavour followed by a fine freshness and a rich bouquet bear witness to the ageing of this cuvée in the House's traditional cellars.

AROMA
There is a maturity with a touch of floral freshness for this cuvée, which expresses aromas of fresh fruit and ripe pears.

TASTING
The ideal partner for every occasion. It is perfect as an aperitif and can be enjoyed with a wide variety of dishes.

Serve at: 8°C
From Florent NYS, Billecart-Salmon' chief winemaker.
In Perfect Harmony with Michel Rostang
Chef, Maison Rostang**, Paris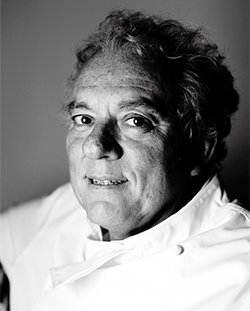 " It's now more than 20 years since I started working with Maison Billecart-Salmon. We often share great times together – they are as much familial as they are professional. They share a family history and it's a wonderful story between the two family Houses! The Brut Réserve is a cuvée which is both delicate whist at the same time exhibiting a great finesse. Ideal as an aperitif or paired with a dish that is light and refined and doesn't overpower the wine. I'm thinking of a dish that we serve on our menu at the restaurant: crab spiced with ginger and a creamy courgette sauce which is topped with Daurenki caviar. The pairing is subtle and the dish perfectly accompanies this ethereal cuvée which exhibits a great finesse. For me, the Brut Réserve cuvée is the perfect synonym for pleasure and excellence at any time of the day! A moment of joy and a light-hearted accompaniment to everyday celebrations to liven up all the best memories in life for all the simple yet precious times that we share with family or amongst friends. It is the expression of an eternal elegance. "
Guide notes
92/100 - JAMES SUCKLING - July 2022
"Dried lemon, grapefruit, croissants and salted almonds here, with a flavorful palate. Creamly bubbles. Layered and delicious."
SEE COMMENTS
Grape Varieties & Blend
• 30% Pinot Noir from the Montagne de Reims and the Grande Vallée de la Marne
• 30% Chardonnay sourced from the best Crus in the Champagne region
• 40% Meunier from the Vallée de la Marne and the southern slopes of Epernay
• Dosage : 8g/l
• Vinification in stainless steel tanks
• Malolactic fermentation
• 50% to 60% reserve wines
• Ageing on lees : 30 months
• Available formats: Half-Bottle, Bottle, Magnum, Jeroboam, Methuselah, Nebuchadnezzar
• Ageing potential: 2 to 4 years (Bottle); 1 to 2 years (Half-Bottle); 4 to 8 years (Magnum and Jeroboam)
DOWNLOAD THE TECHNICAL SHEET